You are here
Matthias Diependaele wants World Heritage recognition for WWI sites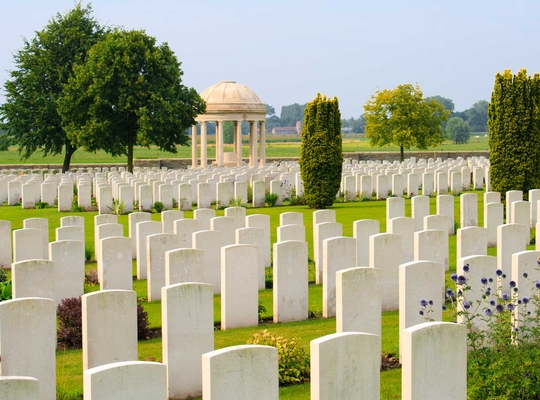 Flemish Minister for Immovable Heritage Matthias Diependaele has once again placed the recognition of World War I monuments and cemeteries as World Heritage Sites on the UNESCO Committee's agenda. He announced this on the sidelines of an extraordinary funeral: soldier Robert Kenneth Malcolm was reburied at Bedford House Cemetery in Ypres 102 years after he died. His remains were found by chance in 2016, and it was finally possible to identify him. "It is always a moving moment when victims of the world wars are found so long after the date they died. It is important that we continue to remember these events and that we honour the victims. It is a history lesson that provides a connection across generations. That is why the recognition of these sites as World Heritage Sites is also important," Matthias says.
Flanders, Wallonia and France submitted a file to UNESCO in 2017 for World Heritage recognition of 139 WWI monuments and cemeteries along the Western Front. Of these monuments and cemeteries, 27 are located in De Westhoek, including Bedford House Cemetery.
Reflection
The World Heritage Committee decided in 2018 that it first wanted to conduct a fundamental reflection on nomination files that have a link with recent conflicts or so-called "negative memories". The aim is to avoid the misuse of World Heritage recognition as a political tool, for example, when reconciliation between former warring parties has not yet been achieved.
Message of no more war
The World Heritage Committee has now decided that there is indeed a place for this type of file on the World Heritage List. Not least because they can also be strong bearers of a "No more war" message. More attention must also be given to interpretation and education in these nomination files.
The file will be back on the agenda of the World Heritage Committee in September this year. We expect a decision around 21 September.
How valuable did you find this article?
Enter your personal score here