You are here
Today we are all Catalans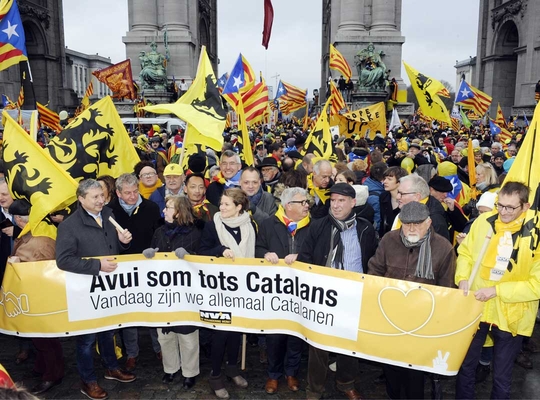 Today, the area around the Jubelpark in Brussels is buzzing with thousands of Catalans. They are calling on Europe to respect their right to self-determination and are demanding the release of all Catalan political prisoners. The N-VA supports this peaceful protest and will be present there with a large delegation of MPs.
Europe must enable a dialogue
"Today, we are all Catalans," says MEP Mark Demesmaeker. "Europe must enable a dialogue between Catalonia and Spain, but the European elite is instead handling this crisis in a forced manner. Why aren't the Catalans allowed to decide their political future themselves? That question is almost a taboo in the European institutions."
Indignation regarding political prisoners
MP Peter Luykx also finds it unacceptable that in the year 2017 there are still political prisoners locked up in Europe: "Where on earth is the indignation? When will Europe finally condemn the imprisonment of Catalan leaders and democratically-elected politicians? It seems that Spanish Prime Minister Rajoy is having his back covered by his highly-placed friends in the EPP group."
Respect for the outcome of the Catalan elections
"The Catalans have announced that they will respect the outcome of the elections of 21 December, whatever that outcome turns out to be. Well, we expect that signal from Madrid and the European leaders too," concludes Member of the Flemish Parliament Jan Van Esbroeck. "Anyone who does not accept the result of a people's vote is undermining democracy."
How valuable did you find this article?
Enter your personal score here