You are here
The Vivaldi government is putting the fate of soldiers in the hands of a bureaucratic EU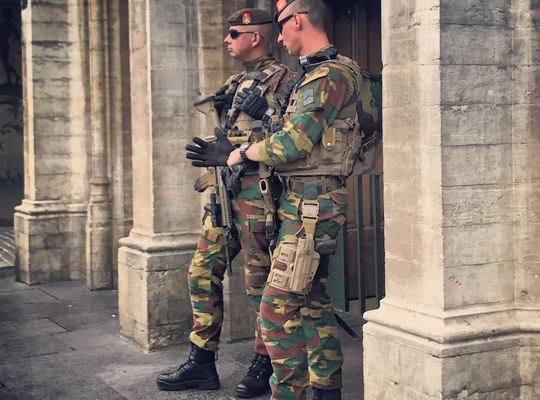 On Thursday, the Vivaldi majority voted for a resolution proposing to hand over the Belgian decision-making power on the deployment of our soldiers in war zones worldwide to the new European Defence Council, which is to be set up. N-VA MPs Theo Francken, Peter Buysrogge and Darya Safai respond with dismay. "It really is a problem how this Francophone-dominated majority is doing everything possible to follow in the footsteps of President Macron's France and thus the EU."
The political party MR is unflinchingly in favour of the European plan, and the rest of the majority is following it in this, regardless of the project concerned, regardless of the potential impact on our own national defence, regardless of the consequences for NATO (still the cornerstone of our defence policy for us), regardless of what it will cost or whether it will ultimately contribute anything to strengthen our capabilities. More Europe is the mantra of this government, and it is apparently not acceptable to question it.
Surplus of senior officers
The N-VA group notes that the current European defence planning process is very complicated and will certainly not strengthen our defence capabilities in the short term. That is not really a problem for the Vivaldi majority, however. They want additional European headquarters where we can put our surplus of senior officers and white papers that, in addition to NATO and national planning, also lay down a European wish list.
NATO: leaner and more efficient
Theo Francken does not agree with this. "We must absolutely avoid creating yet another bureaucratic layer that consumes the scarce resources of Defence and mainly produces paper."
"We already have such an institution with its own roadmap, capability objectives and centralised command, which in turn is a lot leaner and more efficient: NATO," Darya Safai adds.
The Vivaldi government relinquishes sovereign decision-making power
Finally and more fundamentally, there are major questions about the intention of this majority to relinquish Belgian sovereign decision-making power over the deployment of our military personnel in war zones worldwide for the deployment of so-called EU Battlegroups.
According to Peter Buysrogge, the Vivaldi government is crossing a red line. "This goes much too far. There will not be much commotion if everything goes well, but what if Belgian soldiers die on a foreign mission for which there was no support from the Belgian population, but that was imposed on us by the European Council? What then? A question that the parties of the majority would prefer not to answer."
How valuable did you find this article?
Enter your personal score here