You are here
The Flemish Lion in Argentina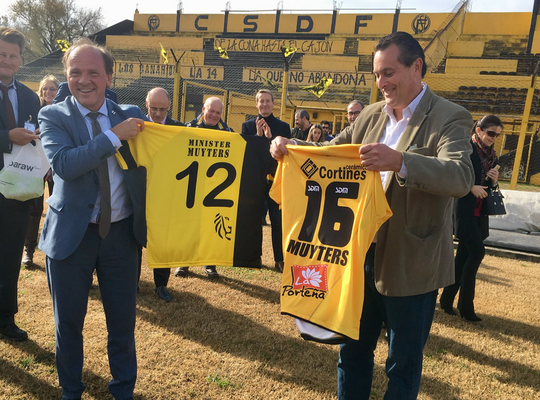 A black and yellow shirt with the Flemish Lion as its logo. This could be the kit of the Flemish national team at the World Cup in Russia. But we're not there yet. It does exist though. During the trade mission to Argentina, Flemish Minister of Economy and Sport Philippe Muyters visited the stadium of Deportivo Flandria, an Argentine football club with Flemish roots. At the stadium, Minister Muyters unveiled a bust of Charles V, Holy Roman Emperor, after whom the stadium is named.
Fleming in Argentina
Deportivo Flandria was founded in 1941 by the Flemish textile merchant Jules Steverlinck. Jules Steverlinck opened a cotton factory in the 1920s near the city of Luján, some 100 kilometres away from Buenos Aires. The textile factory shut its doors for the last time in the 1990s, but the spirit of Jules Steverlinck can still be felt everywhere you go. The factory site is now a museum and a must-see for every Fleming who travels to Argentina.
Swapping shirts
Jules Steverlinck was very pro-Flemish, a conviction he took with him to Argentina. Flemish Minister Muyters was therefore astonished when he entered Villa Flandria. The Carlos V stadium is painted black and yellow and flags with lions on them can be seen fluttering in the terraces. Minister Muyters swapped shirts: he was given a customised Flandria shirt by the Argentines and he gave them a Team Muyters shirt. The Minister put on his shirt immediately.
Eternal friendship
The bust of Charles V is a work by the Flemish-Argentine artist Margarita Cordyn. At the unveiling, Philippe Muyters called the sculpture "a sign of our eternal friendship". After the ceremony, the Minister watched the Argentina vs. Nigeria World Cup game in the Flandria clubhouse and paid a visit to the former factory.
How valuable did you find this article?
Enter your personal score here