You are here
EU reform is vital for Flanders too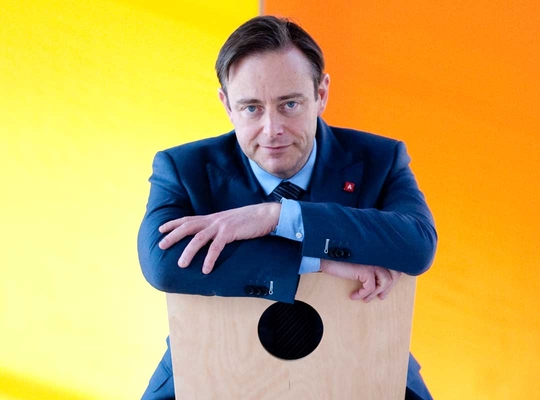 British Prime Minister David Cameron recently presented his reform plan for the European Union. In it he argues in favour of a Europe that takes account of European diversity and changing circumstances.
According to N-VA chairman Bart De Wever, today's European Union is not capable of responding to the rapidly changing social reality. "We keep muddling along with a bureaucratic and centralist approach. The solutions that the EU offers all too often only cause more problems instead of being effective. The British reform proposals change that. David Cameron has made some very constructive proposals to increase our Competitiveness The extent to which companies in one country can compete with similar companies in another country. A law came into force in Belgium in 1996 to monitor competitiveness. This stipulates that Belgian salaries may not evolve faster than the average of those in the three neighbouring countries. The Central Economic Council (CEC) performs an annual measurement to see if the objectives have been obtained. competitiveness and build the Union from the bottom up. To his credit, he also goes straight to the heart of the problem and is not afraid of identifying abuses. David Cameron's vision is not just good for the United Kingdom, it's good for the whole European Union. So it's good for Flanders too."
No social shopping
De Wever emphasises the British proposals in terms of immigration and Social security Social security is currently managed at the Federal level in Belgium. The most important pillars of Belgian social security are: sickness and invalidity insurance (NIDHI), pensions, unemployment insurance and child allowances. In addition, occupational illness, occupational accidents and annual holidays are dealt with at this level. Some Flemish parties have been campaigning for years for (large parts of) social security to be transferred to the Regions and Communities. social security . "The EU is founded on common values," De Wever says. "But these basic principles may not be used as an excuse to undermine the social welfare state. Newcomers cannot enjoy the same social rights as citizens who have been paying social security contributions for years. Free movement within the Union is not an excuse for shopping around in the various Member States for the best social protection. David Cameron understands this."
In an open letter to the party chairpersons of the centre-right parties in Europe, Bart De Wever has previously already asked them to endorse the British immigration proposals. You can find further information about this initiative here.
How valuable did you find this article?
Enter your personal score here