You are here
Photo campaign for imprisoned President of the Parliament of Catalonia Carme Forcadell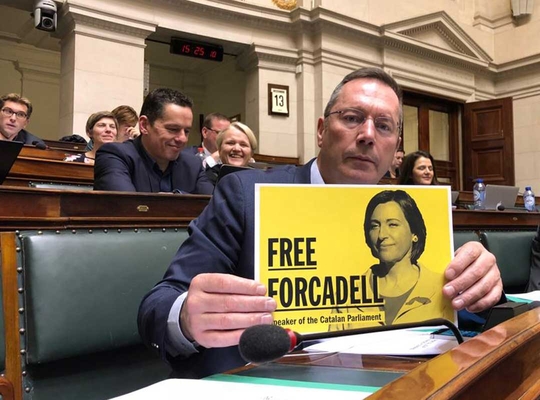 The N-VA will in no way forget the Catalan political prisoners. On Thursday afternoon, our members of Parliament in the Chamber carried out a photo campaign in which they showed their support for the former President of the Parliament of Catalonia, Carme Forcadell. Carme Forcadell has been in prison for more than 250 days in detention under remand. She is in prison because in her position as President of the Parliament of Catalonia she gave her approval for the debates on independence to take place. She is accused of rebellion and risks a prison sentence of 17 years.
PS protests
The aim of the photo campaign, which resonated throughout all of Europe, is to bring that injustice to the eyes of European leaders. The MPs of N-VA took part in this campaign with full conviction, but things did not go entirely smoothly. When one of our MPs brought out the poster of Carme Forcadell during the plenary sitting, the PS started to protest loudly. This was followed by the MP being asked to put the poster away.
At the European Parliament too, numerous MPs took part in the photo campaign in support of Carme Forcadell. They included N-VA MEPs Mark Demesmaeker and Helga Stevens.
And in the Flemish Parliament, the N-VA also took part. On Twitter, all the participants are bundled under the hashtag #FreeForcadell.
This year once again, the N-VA is giving the Catalan political prisoners a few words of encouragement with a Christmas card campaign. Would you like to send a card too? Read all about how to do so here.
How valuable did you find this article?
Enter your personal score here