You are here
On the withdrawal of the N-VA from the federal government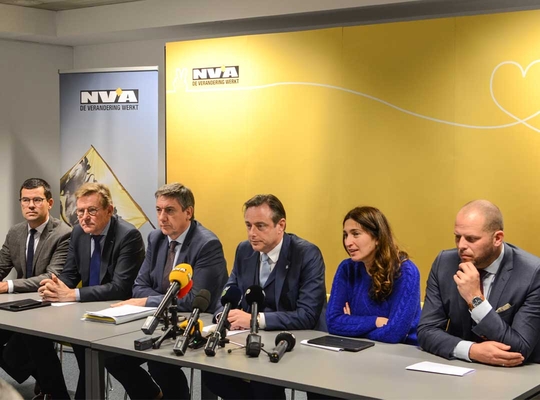 The N-VA is no longer part of the Belgian federal government. On Sunday, the N-VA ministers and secretaries of state resigned after it became clear that Prime Minister Charles Michel would follow through on his intention to show his support for the UN Compact for Migration in Marrakech. On Saturday morning, N-VA chairman Bart De Wever had once again asked that Belgium abstain from the vote on the Compact on 19 December in New York, but the coalition partners CD&V, Open Vld and MR ignored this outstretched hand. After one final cabinet meeting, the N-VA saw no other option on Saturday than to announce the resignation of its ministers.
A question of principles
The opposition to the UN Compact for Migration is a matter of principle for the N-VA. The text of that Compact is not only at odds with our vision of migration, but also with what the general population actually wants. Moreover, with the Compact we are partly giving up control of our migration policy and making ourselves dependent on the interpretation that judges will give it. The N-VA does not want to surrender that much sovereignty. This strikes at the heart of our party, of our very convictions. Our house of democracy is located in Brussels and not in Marrakech, New York or Strasbourg.
Four and half years of constructive cooperation
The N-VA regrets that the federal government had to fall because of the UN Compact for Migration. For four and a half years, our ministers and secretaries of state worked effectively with the coalition partners. In our opinion, the ultimate result was positive. We also appreciate that Charles Michel tried to keep his government going, right up to the last moment. For this reason, it is particularly unfortunate that the other partners in the government made a solution impossible. In any case, the N-VA will not pretend that the last four years have not existed. Specifically, we will respect the agreements we committed to in the Michel I government.
Respect for democracy
In turn, the N-VA asks the new Marrakech coalition to respect the democratic rules of this country. We ask that the new Michel II minority government present itself to Parliament with a government declaration and subject itself to a vote of confidence.
How valuable did you find this article?
Enter your personal score here