You are here
N-VA wants a begging regulation for Brussels municipalities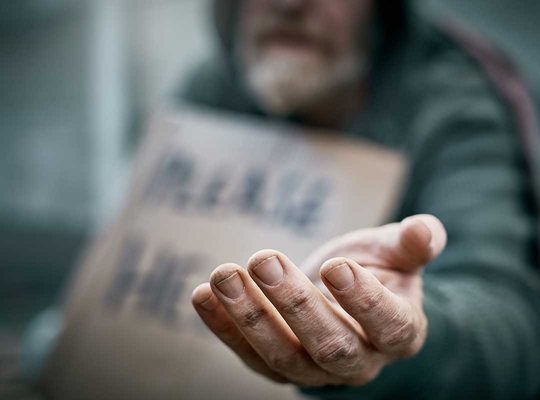 Today, the proposal by Mathias Vanden Borre (N-VA) and Bianca Debaets (CD&V party) to introduce a general regulation on begging for the 19 municipalities was voted down in the Brussels Parliament. "A lost opportunity. Contrary to the PS party's claim, Brussels does indeed have a begging problem. Anyone who walks around the centre of Brussels, has a drink on an outdoor café terrace or stops at a traffic light regularly runs the risk of being accosted by beggars who sometimes dare to ask for some money in an intimidating way," the MPs respond.
Cities such as Ghent, Ostend or Antwerp have already introduced aggressive forms of begging as an administrative offence punishable by a GAS fine. Begging is also restricted in Walloon cities such as Charleroi, Namur and Liège: begging is no longer allowed in those city centres or on café terraces, markets, at schools or at ATMs.
Unworthy of a capital
But despite the clear presence of begging in Brussels, most municipalities have not regulated begging on their territory. Etterbeek has had a regulation limiting the number of beggars on the municipality's major commercial axes since 2012. The City of Brussels also has a regulation that combats begging with children and sanctions if necessary. "The fact is that the phenomenon is not being tackled or is being tackled in different ways. In this way, Brussels residents, commuters and tourists alike must learn to live with a city that feels unsafe or unpleasant, and that is actually unworthy of its status as a capital in some respects," says Vanden Borre.
Children do not belong on the street
Beggars, often families with children, are in a precarious situation and absolutely need help. "No one benefits from begging on the street. Children should certainly not be on the street, but rather in a nursery or, better yet, at school. And the adults must be directed to social services so they can get their lives back on track," says colleague Bianca Debaets.
"No begging problem" according to the PS and Ecolo parties
That is why N-VA and CD&V party MPs requested the Minister-President to take responsibility by means of a resolution proposal and introduce a general and harmonised begging regulation for the 19 municipalities that also prohibits aggressive begging. "Unfortunately, the majority parties, PS and Ecolo, had their blinkers on yet again, and they think there is no begging problem at all. Criminal networks of human traffickers who make children beg don't - unfortunately - have to worry yet," the proposers lament.
How valuable did you find this article?
Enter your personal score here