You are here
N-VA in the front row at the foundation of the EU-Catalonia Dialogue Platform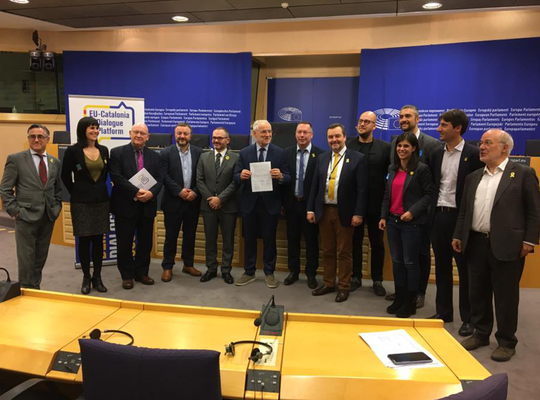 This week, the N-VA was in the front row at the foundation of the EU-Catalonia Dialogue Platform. The platform brings together Catalonia-supporting parliamentary friendship groups from Scotland, Denmark, Switzerland and of course Flanders, among others. Those friendship groups are an expression of the international indignation that is being felt across borders about the way in which Spain is tackling the Catalan question. The Flemish-Catalan Friendship Group was present at the foundation of the EU-Catalonia Dialogue Platform.
International indignation
The escalation of the Catalan crisis at the end of 2017 led to great international indignation. Spanish police violence tainted the peaceful, democratic referendum held on 1 October 2017. Afterwards, the repression was kept up, with the arrest of ministers and activists and the fleeing of President Carles Puigdemont, among others. Today, nine Catalans are still behind bars. The friendship groups follow the developments in Catalonia closely and encourage debate on civil rights and the universal right to self-determination. Members of the various different friendship groups are showing their concern about the fate of the political prisoners in Spain.
True dialogue
After numerous informal contacts, representatives of the friendship groups gathered for an event of the EU-Catalonia Dialogue Platform. At the foundation of a new "Parliamentary network of Catalan friendship groups", the participants signed a manifesto in which the repressive reaction of Spain against Catalonia is condemned. In addition, the group is calling explicitly on the government in Madrid to shoulder its responsibility and take a clear step towards a true dialogue between the governments in Madrid and Barcelona.
Support the Catalan political prisoners and send them a Christmas card. Click here to find out how you can do so.
How valuable did you find this article?
Enter your personal score here