You are here
Jong N-VA (N-VA Youth) hands Reynders the key to free the Catalan prisoners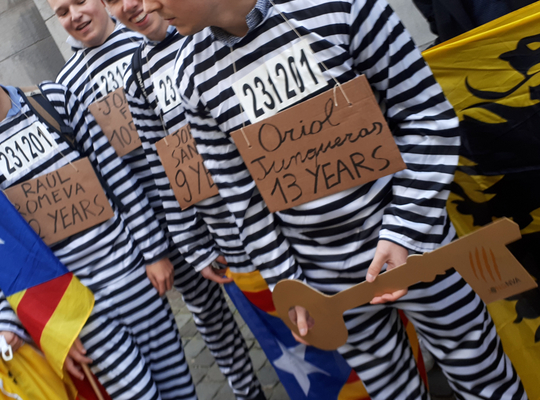 A delegation of Jong N-VA gathered on Friday in Brussels at the cabinet of Deputy Prime Minister Didier Reynders, who is also responsible for Foreign Affairs. The Jong N-VA members handed Reynders a key. With this initiative, Jong N-VA wants to emphasise that as from next month Didier Reynders holds the European key to advocate for the release of the Catalan government leaders and members of Catalan civil society.
Proof that things can be different
As the European Commissioner for Justice, Reynders must ensure that the EU Member States honour the principles of the rule of law, say the young Flemish nationalists. Europe can and may no longer put its head in the sand for the severe punishments handed down by the Spanish Supreme Court to the nine Catalans. Silence in the face of such injustice means agreeing with it. Jong N-VA is therefore asking the prospective European Commissioner to respond in no uncertain terms: when there are differences of political opinion, you discuss them, and you don't deal with them by putting people behind bars and silencing them. For once, Belgium can be the proof that things can be done differently.
Democracy out in the cold
Unfortunately, minister Reynders had no time this morning. The request by Jong N-VA therefore remains unanswered. Is Didier Reynders really going to leave democracy out in the cold?
How valuable did you find this article?
Enter your personal score here