You are here
Jan Jambon from Davos: "A record number of foreign investments in Flanders"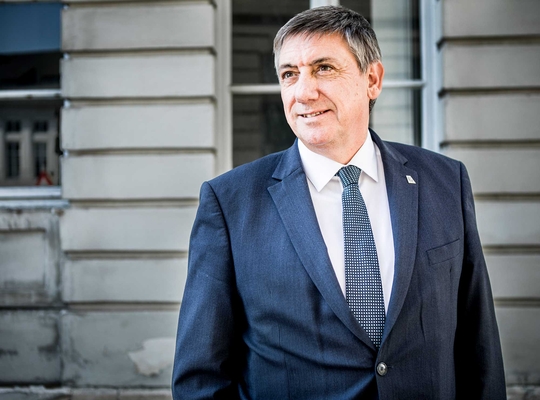 In 2022, foreign companies invested over EUR 5 billion in Flanders. A historic record. While attending the World Economic Forum (WEF) in Davos, the Flemish Minister-President announced the Flanders Investment & Trade (FIT) figures. His main task there is ensuring that this year's investment figures continue to rise. "The WEF is still the ideal place to meet so many top international entrepreneurs in such a short time and get them interested in investing in Flanders."
Last year, FIT saw foreign companies start up 278 new investment projects, good for 6,450 extra jobs in Flanders. The highest figure ever. These investments are mainly in strategic sectors such as pharmaceuticals and chemicals. Flanders also attracts considerable investments in climate technology and energy transition. But above all, innovation appears to be Flanders' trademark. Of all foreign investment, 20% is in the field of research and development.
Major investment projects
The most notable investment projects in Flanders over the past year are the expansion of Pfizer's production site in Puurs, Sanofi's new production line in Geel, Plug's construction of Europe's second-largest hydrogen plant in Antwerp and ZF Wind Power's test centre in Lommel.
Presence in Davos is crucial
"It is yet more proof that the Flemish presence at the World Economic Forum is crucial for our economy and job creation," says Jan Jambon. "The record number of foreign investments is a good gauge of our economy. I am therefore very pleased with these figures. It is now a matter of forging numerous contacts here again to ensure that we can also secure these good figures in 2023 as well."
"I'm doing my job here"
With this, Jambon also resolutely refutes the criticism of some opposition parties regarding his presence in Davos. "It should be obvious that it would be an incredible blunder not to be here. On top of that, Foreign Trade is a Flemish competence. I'm doing my job here. In three days' time, I speak to about 50 top CEOs of international companies. This would not be possible at any other time."
Flemish Data Utility Company
One of these contacts at the previous WEF has also resulted in an impressive development. Flanders is namely setting up the Data Utility Company and is partnering with Microsoft for this purpose. "We want to ensure that people can store their digital data safely and can decide for themselves where, when and for what purpose they release those data. Many people are still hesitant about storing digital data, but that is quite simply the future. The Data Utility Company, which we will officially launch in a few months, is primarily intended to instil trust. I am proud of the fact that an international player such as Microsoft recognises the value of our Flemish top technology and wants to collaborate with us," Jan Jambon says.
How valuable did you find this article?
Enter your personal score here