You are here
Government reforms military and police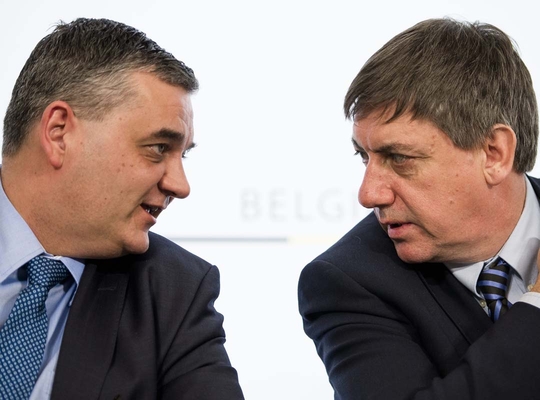 At the tail end of 2015, the Belgian government has concluded a number of structural and substantial agreements for several key areas, such as security and defence. More specifically, it concerns the future of the military and the core tasks of the police.
In the future plan for Defence, 9.2 billion euros have been budgeted for investments in all Belgian military divisions: ground, air, and naval forces, but also (cyber) intelligence. For example, the purchase of 34 fighter aircraft must be completed by 2030, with the first expected between 2023 and 2028. Additionally Defence is investing in two frigates, six mine hunters and six drones. "The defence budget has decreased uninterrupted over the past decades. Today, we make a historical U-turn by investing in the future of our armed forces again," Minister of Defence Steven Vandeput announces.
Slimmer and younger
Vandeput wants to further thin out Defence staff by 2030, from 32,000 to 25,000 full-time troops. At the same time, the average age must be lowered from 40 to approximately 34 years. "We are opting for a more streamlined and younger organisation, with adapted, modern staff policy and regulations," according to the Minister. "Our assignment has also seen a shift toward supporting missions and conflict prevention," he notes. "A government must not aim to cover all areas, but should rather focus on its core tasks and execute those responsibly, efficiently and with an awareness of the costs."
More police officers on the beat
The Ministers also reached an agreement about the core tasks of the police. This government wants to see more police on the streets, whenever and wherever needed. It also wants to be able to deploy more means and capacity for priority tasks. Therefore, the police gains 2,500 more staff members on the ground, including a new force with 1,660 members that will be specifically responsible for surveillance and protection assignments. This new force, which will be part of the federal police, will mainly consist of staff transferred from Defence and Justice. The local and federal police will also receive 450 and 400 extra members, the former for quick local interventions close to citizens, and the latter for more hard-line tackling of priority domains, such as the fight against serious crime and terrorism, and reinforcement of traffic police.
Focus on core tasks
Within the framework of these staff reforms, police duties are also reconsidered. Part of the assignments currently carried out by the police will, for example, become paid. For some assignments, the police will from now on liaison more with private partners, and others will be outsourced completely. Some police duties will simply be stopped. "The police must focus on its core tasks, such as the fight against terror and serious crime," Minister of Security and the Interior Jan Jambon states. "Things that are not a priority can be performed by the private sector."
How valuable did you find this article?
Enter your personal score here