You are here
Finally a debate on Catalonia?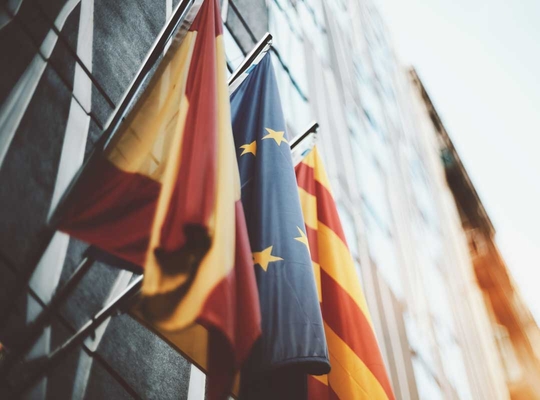 It turns out that the European Parliament is going to discuss the Catalan independence referendum after all. The N-VA has been requesting such a debate for a long time, and it's especially important now that the Spanish police's brutal attitude caused almost 900 people to be injured in Catalonia yesterday. The N-VA's position in this regard is as clear as ever: No to Spanish violence and No to the European Commission supporting the Spanish Government in its undemocratic approach. Violence can never be tolerated.
MEP Anneleen Van Bossuyt is pleased that a parliamentary debate on Catalonia is now finally possible. Her colleagues Mark Demesmaeker, Helga Stevens and Sander Loones have been in Catalonia since last weekend and experienced the violent Spanish repression up close.
"It is a disgrace that European citizens had to wait so long for a debate while the escalation had already been visible for weeks and months," Anneleen Van Bossuyt says. "Nobody can claim to be surprised by the Spanish violence. The EU has betrayed its democratic obligations and seriously undermined the support it itself enjoys."
Did you say nepotism?
"For months, the Commission refused to call for dialogue between Madrid and Barcelona, which only served to strengthen the roots of this conflict," Mark Demesmaeker notes. "In other countries, the Commission doesn't hesitate for a second to defend European values, and rightly so. But when it comes to Spain, it's as quiet as a church mouse. Is it maybe because Commission President Juncker and Spanish Prime Minister Rajoy belong to the same Christian Democratic group? That would be an indefensible case of nepotism."
"The European Commission is even throwing metaphorical bouquets of flowers at Prime Minister Rajoy, who got masked and heavily armed assault troops to attack his own people," Sander Loones says. "His leadership rests on truncheons and rubber bullets. Actions unworthy of a European Member State are receiving statements of support from the European headquarters in the Berlaymont building. European Commission President Juncker needs to draw his conclusions and resign, that much is clear. And work must also be done on proper and serious international mediation."
Strong signal
Helga Stevens is in any case hoping to see a strong signal sent by the European Parliament in this Catalonia debate: "Anyone imagining that it is possible to butter up Spanish Prime Minister Rajoy, or who is still calling this an 'internal Spanish issue', is doing Europe a great disservice."
How valuable did you find this article?
Enter your personal score here