You are here
European asylum policy needs a maximum limit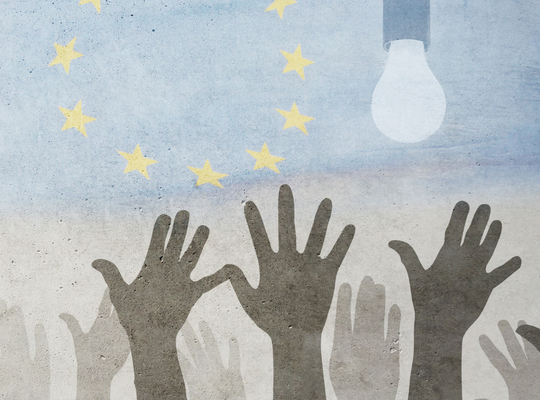 The European Commission has issued a number of specific proposals to bring migration to Europe under control. For example, Member States may reintroduce internal border controls for a period of three years in case of a pertinent migration problem or terrorist threat. The Commission also wants the Member States to voluntarily take in 50,000 refugees. "It is important that the legal influx goes hand-in-hand with further measures to stop the illegal influx, but more than that is needed," warns MEP Helga Stevens. "European asylum policy is only successful when there is not only an efficient repatriation policy but also a maximum limit on the number of asylum seekers."
Today, in principle, Member States can close internal borders up to a maximum of two years. Nevertheless, the security threat continues to exist, namely due to the influx of returning Syrian fighters. "Since this maximum period for a number of affected countries expires in November, it was high time to take action so that the Member States can continue the necessary identity checks in these times of uncertainty," Helga Stevens says.
Resettlement: not unconditional
The Commission is, however, asking the Member States to take in additional refugees. In this connection, they would receive EUR 10,000 per person from the EU. Resettlement is voluntary. "I am currently working on a resettlement mechanism whereby the intake of refugees from a particular country is linked to a maximum limit and a clear commitment by the country of origin to take illegal immigrants back," Helga Stevens explains. The N-VA is therefore indeed in favour of voluntary resettlement, but only if the illegal routes are closed, a maximum limit is agreed and Member States can oblige the refugees taken in to follow a customised integration and activation policy.
Accelerated repatriation of illegal immigrants
"Finally, the Commission is getting the message that there is no support among the population for the intake of extra refugees as long as the illegal flows of economic fortune seekers are not stopped," Helga Stevens concludes. "Nevertheless, it is naive to think that focusing on an efficient repatriation policy alone will solve the problem. We need to invest further in the regions of origin and introduce pushbacks as well."
How valuable did you find this article?
Enter your personal score here