You are here
EU asylum system unworkable without maximum limit on asylum seekers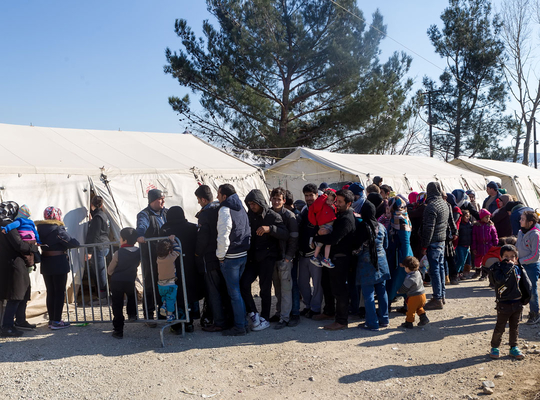 In the European Parliament, a draft report has been presented concerning the reform of the European asylum system. However, there is still no trace to be found in it of a maximum limit on the number of asylum seekers that Europe can accommodate. "And yet that is a crucial element in any workable and realistic asylum system," says MEP Helga Stevens. "On top of that, we should actually be putting the focus on more and better relief in the regions of origin. In this regard the OPEC countries are doing nothing or monstrously little."
The report puts the focus on an accelerated relocation policy in Europe, with simplified family reunification. "Now, we too think that asylum applications must be processed more quickly. Nevertheless, we will strenuously resist a more flexible system of family reunification," Helga Stevens emphasises. "For example, the report proposes immediately bringing over asylum seekers who merely claim to have family in Belgium, in anticipation of potential recognition of the application. But if that claim later turns out to be incorrect, we might not even be able to send those asylum seekers back. Because according to European jurisprudence the reception in many European member states is too unwieldy to allow the so-called Dublin transfer. It is thus an irresponsible proposal."
"Without a ceiling for asylum seekers you also don't create any support in the various European member states and their respective populations," repeats Helga Stevens. "And that is necessary to be able to redistribute a limited number of asylum seekers and receive them in a decent manner." In order to reinforce that essential support for migration, Helga Stevens is also asking the EU to lift the obstacles that currently make the social integration and activation of refugees difficult.
Shouldering responsibility
The report also clearly states that all member states without exception must take up their asylum-related responsibility. "So the rest of Europe will temporarily not accept any more asylum seekers from countries like Italy and Greece, if they do not effectively guard their external borders. On the other hand member states from Eastern Europe for example could be sanctioned if they do not meet their redistribution obligation. This asylum system only has a chance of success if everyone joins forces behind it," Helga Stevens concludes.
How valuable did you find this article?
Enter your personal score here