You are here
Bart De Wever meets David Cameron: "Together for change"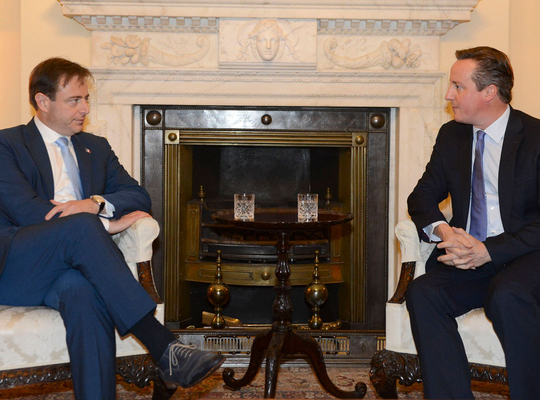 N-VA Chairman Bart De Wever visited David Cameron at 10 Downing Street, the official residence of the British Prime Minister, on 18 November. The conversation was almost fully dedicated to the European reform plans, which David Cameron, as the leader of the British Conservative Party, presented earlier this month. "We agree with the majority of his renewal proposals," said Bart De Wever afterwards.
The N-VA Chairman had already stated his support for David Cameron earlier, after the latter had proposed his demands for reform of the European Union. David Cameron also wishes to propose those demands to British citizens in a referendum on the UK's EU-membership. "This time, I was mainly interested in the opportunities for our country," said Bart De Wever. "That was therefore something we discussed extensively."
Clear overlap
The N-VA has strong ties with the British Conservative Party, because both parties are in the same European parliamentary group: the European Conservatives and Reformists). "Our parties are very close on socio-economic and societal aspects," Bart De Wever explained. "For example, we support David Cameron's reform proposals to strengthen the internal market. And there is also clear overlap in the fields of safety and fighting terror."
In 2011, Bart De Wever also visited the official residence of the British Prime Minister. The year after, the two senior politicians met in Brussels.
Click here to view a short report in English on Bart De Wever's visit to David Cameron.
How valuable did you find this article?
Enter your personal score here