You are here
Bart De Wever: "If the worst crisis of the century is not enough to put differences of opinion aside, then they will never end."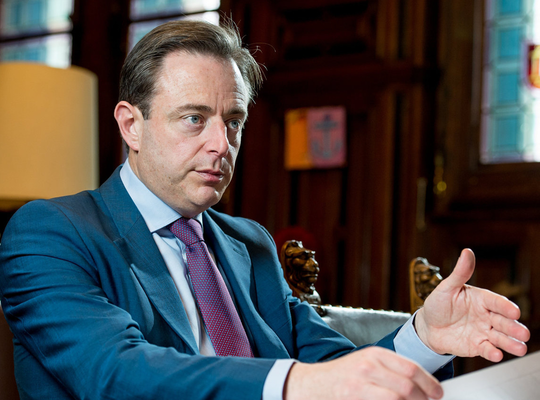 An emergency cabinet with two times five ministers, including all the top political figures. That was the proposal for an emergency government on which N-VA chairman Bart De Wever had an agreement in principle with the PS. Until Paul Magnette torpedoed it on TV on Sunday. "Our advisors were writing the text of the PS-N-VA coalition agreement while we were watching television." Bart De Wever spoke on the De Ochtend radio show about the emergency government, authorisation for the caretaker government and the spectacle of recent days.
The N-VA chairman calls it a great pity that the PS turned tail. "On Thursday night, I had an agreement in principle. Thanks to Conner Rousseau, who was able to bring us together. I had a conversation with Paul Magnette to say: 'Look, there's a huge crisis, the worst of the century, there is also going to be a huge recession.' In any normal country, that is when the major parties would step into a government. You put together an emergency cabinet with two times five ministers. Small. And you just get on with it."
Veto against the N-VA
According to Bart De Wever, Paul Magnette agreed at the time. "He actually withdrew his 'yes' and didn't dare to proceed. And on top of that, he then vetoed the participation of the N-VA. Other parties have followed suit. That is why we still have the caretaker government. Actually, not much has changed. We have a caretaker government and it is just staying in place. Much ado about very little."
At war with a minority government
In a normal country, a crisis such as this one with corona would never be dealt with by a minority government, Bart De Wever said. "In any normal country in a national crisis - it is being compared to a war - you also form a war cabinet. That means that you also put the differences of opinion aside and that the great powers of a country take control. That you form a lean government with only the people who are really needed, and all of the absolute top people in politics on Wetstraat go into it. That was my offer: two times five, all of the top people in it. So that you can govern very powerfully. Which country goes to war with a minority government? And with vetoes too. I thought that was a very sad spectacle. I can't help it. But you have to change your way of thinking, because the population only wants one thing: that the country is governed. You mustn't make that impossible."
Cheering party leaders: out of place in these circumstances
The N-VA will continue to take a constructive stance, stressed the N-VA chairman, but is not in favour of a blank cheque. "I've been in meetings all weekend to set up an emergency government. In the end, this did not succeed, and all the other opposition parties were called upon in turn to say no to the participation of the N-VA. That was already clear on Sunday. The PS said: we won't do it, either. The result of this is that the caretaker government has to stay in place. Its response was: 'OK, but we can't do anything. So we are going to ask for special powers.'
"In the end, I said: 'If you have a text for special powers, we'll take a look at it.' But I haven't seen anything in writing yet. So I find the joyful atmosphere that we are seeing, right up to the cheering party leaders who have their pictures taken, a little out of place, also because of the circumstances in which our country finds itself."
No one will say no to corona measures
In fact, the question is whether special powers are really necessary. "Let's be honest, who in parliament is going to say no to corona measures for the next three months? Nobody. So I don't know why you still need special powers. That was said yesterday in a context in which we don't know whether parliament can still meet. Because there are projections that up to fifty percent of the population could be infected. It's actually going incredibly quickly now. If I see in just my own circle of friends and acquaintances how many COVID patients there already are, then there is a threat of an extremely difficult situation. And then a special power would be appropriate so that we can continue to govern, even without a parliament. This has been discussed in that context. But we actually already have an emergency government. It's already there. It was there the day before yesterday, and we woke up with it today. It's a bit much ado about nothing, really. Anyway, we'll look at that constructively."
Neither state reform nor role of Prime Minister
Bart De Wever refutes the fact that the N-VA linked a state reform or the role of Prime Minister to an emergency government. "I said on Thursday evening: 'That's an offer. I might possibly want to do that, but I never demanded it.' And at the meeting with Patrick De Wael yesterday, I said: 'I'm going to leave this meeting if everyone doesn't now confirm that it's a lie that I demanded that. And if everyone doesn't confirm that it's a lie that I first want state reform before we can start.' Everyone acknowledged that it wasn't true. So they put that on the air on Sunday morning to discredit us."
New agreement for Belgium
Bart De Wever did want to use the emergency cabinet to seek rapprochement with the other parties, including the PS. "If we form an emergency cabinet, we're looking at six months. And if a severe recession breaks out, maybe a year. If all the heavyweights are in government, then those parties may be able to calmly sound each other out in the meantime and perhaps propose a major new agreement for Belgium within a year. Surely you can make good use of that time. And then I did indeed talk about Article 195, but they turned that around completely into a context that I linked that to an emergency government. Well, that really shows a lack of respect and of honour and no regard for code."
Stuck until 2024
The political developments of the past few days make Bart De Wever sceptical about the future prospects of this country. "There are grounds for scepticism. If you are in what promises to be the most severe crisis of the century - because that's what we're looking at: the economic consequences are going to be dire - if that's not enough to put differences of opinion aside, then you may well ask yourself what will actually ever be enough. And it justifies holding the sceptical view that this country just can't form a majority government any longer and that we're stuck until 2024."
How valuable did you find this article?
Enter your personal score here