You are here
Asylum backlog gets out of hand: to over 10,000 files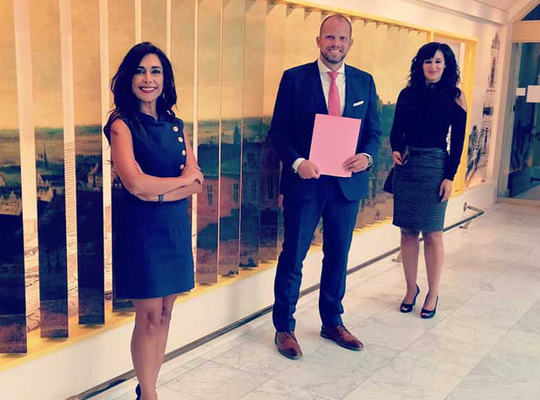 Despite the fact that the number of asylum applications is historically low, the backlog of asylum files has increased considerably. This rose to over 10,000 files for the first time since the migration crisis of 2015-2016. MPs Darya Safai, Theo Francken and Yoleen Van Camp want the competent state secretary to produce a concrete plan to clear up the backlog.
Darya Safai: "Longer procedures mean longer in reception and a more difficult return"
For MP Darya Safai, short procedures are a matter of respect towards the applicant, as well as towards society. "The longer a procedure takes, the longer the reception lasts. This leads to increased pressure on the social safety net and higher costs. Also, the longer a procedure takes, the more difficult it is to organise the return. We are moving towards a situation where we first accommodate people for years and only ask them to return if their application is denied, which happens in no fewer than seven out of 10 cases."
Theo Francken: "Years of work gone to waste"
When he was still State Secretary for Asylum and Migration, MP Theo Francken worked extremely hard together with the administrations to reduce the asylum backlog that had arisen during the European migration crisis of 2015. "Thanks to additional staff, we were able to work together to completely clear the backlog, from 13,375 asylum files in 2016 to only 4,847 files in 2018, which was a normal workload that could be handled within the three-month target period. That was a Herculean feat. It allowed us to downsize the reception network by more than 10,000 beds. All that work has been destroyed in two years, despite a low inflow. It is true that asylum applications increased again from mid-2018, mainly by young male Palestinian asylum seekers from Gaza through illustrious human smuggling networks. To stop this, I introduced asylum quotas. At the demand of my coalition partners MR, CD&V and Open VLD, I had to lay off the additional crisis staff I had recruited."
Yoleen Van Camp: "Work needed on inflow and outflow"
MP Yoleen Van Camp is demanding that current State Secretary Sammy Mahdi come to the House as soon as possible with a concrete plan to reduce the backlog. "The focus must be on the sustainable limitation of the inflow. Through dissuasion campaigns and the strict application of the Dublin Directive, we can discourage asylum seekers who have already submitted an asylum application elsewhere in Europe from coming to Belgium. In addition, we urgently need to put an end to the abuse of multiple applications, which today are almost routinely submitted by rejected asylum seekers, even though those applications have only a very small chance of success. In all those areas, I miss decisiveness on the part of the current State Secretary. What's more, Mr Mahdi himself stimulates multiple asylum applications by announcing the possibilities for this in Belgium on a new government website, www.asyluminbelgium.be, in all the languages of the major countries of origin of asylum seekers."
How valuable did you find this article?
Enter your personal score here