You are here
Anneleen Van Bossuyt pushes digital boundaries in Europe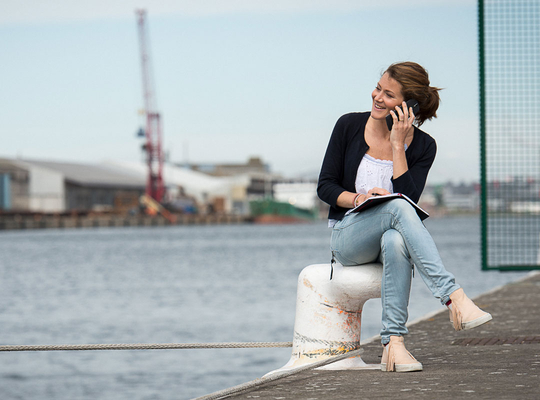 Of all Belgian MEPs, Anneleen Van Bossuyt is the one who makes her stamp most firmly on European digital and telecoms policy. This can be seen in an analysis by the independent non-profit organisation VoteWatch Europe. "Also in dossiers on the digital economy and society, N-VA is making the difference, more than any other Flemish party," says a contented Anneleen Van Bossuyt. "The power of change is making itself clearly felt at European level as well."
As from 2009, VoteWatch has been charting the political activity, and notably the voting behaviour, of European elected representatives. Recently the organisation also did this for the European digital and telecoms policy. In this regard it assessed not only the standpoints of the various MEPs, but also the actual influence they exercise on the concrete policy measures the Union takes in order to put its digital agenda into practice.
Scoring on policy impact
From the VoteWatch Europe research it can be seen that Anneleen Van Bossuyt is the most influential Belgian MEP for digital dossiers. Thanks in no small part to her efforts, an agreement has been reached that ensures that anyone paying for an online service will have access to that service everywhere in Europe. Aside from that she is also working on, among other things, legislation that ensures that traders may no longer prevent online access to their goods or services by consumers from other countries (geoblocking). Anneleen Van Bossuyt is also one of the people in charge of a dossier on guarantee systems and consumer protection for people making online purchases.
Creative and entrepreneurial minds can count on Anneleen Van Bossuyt's support. With a view to the reform of European intellectual property, last year for example she organised a debate in the European Parliament on the remuneration that artists receive from streaming services such as YouTube and Spotify. "As European policy maker we must step outside the European bubble and listen more closely to those who have to bear the consequences of European legislation," Anneleen Van Bossuyt said at the time.
You can find out more here about the work of Anneleen Van Bossuyt in the Internal Market and Consumer Protection and Industry, Research and Energy Committees.
How valuable did you find this article?
Enter your personal score here