You are here
Helga Stevens to participate in European Parliament Presidential debate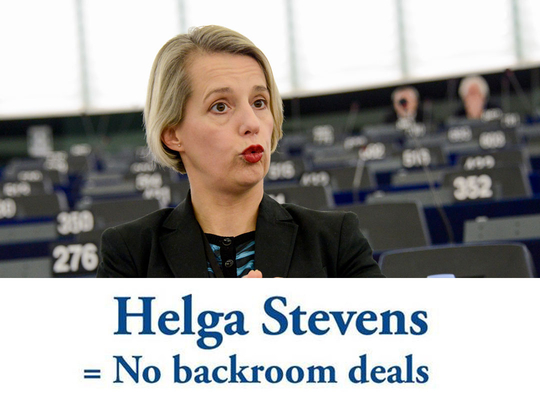 The ECR The N-VA is a member of the European Conservatives and Reformists (ECR), a conservative, eurorealistic parliamentary group in the European Parliament. The N-VA shares their realistic view of the European project and also advocates for the correct and intensive application of the subsidiarity principle. For example, we must not be afraid to ask ourselves if it would be better to leave certain European initiatives to the Member States. The N-VA also identifies with the emphases that the ECR places on the social-economic issues. Since the 2014 elections, the ECR has become the third largest parliamentary group in the European Parliament. ECR group, of which the N-VA is part, has put forward Helga Stevens as candidate for President of the European Parliament. With six other candidates, Helga will participate in POLITICO's European Parliament Presidential Debate on Wednesday, January 11.
This debate will be broadcast live from the Residence Palace in Brussels on POLITICO.eu beginning at 6:00 p.m. CET. The debate will be held in English, with interpretation in Italian and sign language to accommodate the candidates. You can join the conversation on Twitter using #EPpresident and submit your questions to the candidates at events [at] politico.eu
Find out more about this special event here.
Follow EP Presidential debate w/ @StevensHelga #live broadcast Wednesday at 18hrs https://t.co/W2W8PecW8r

— N-VA EU (@NVA_EU) January 9, 2017
No backroom deals
Helga Stevens' main ambition as candidate for the European Parliament presidency is to end the so-called 'G5' backroom dealings and to restore trust and confidence in the institution. Read more here.
You can follow Helga at her campaign site: helga2017.eu. There you can also support her via your Twitter or Facebook account or by manually uploading your details.
How valuable did you find this article?
Enter your personal score here